News
---
CES 2018 in Las Vegas!
Come join Freer Logic and our partners.
We'll be hosted at the Denso booth #7917
and at the Motherson Innovations booth #9330.
---
---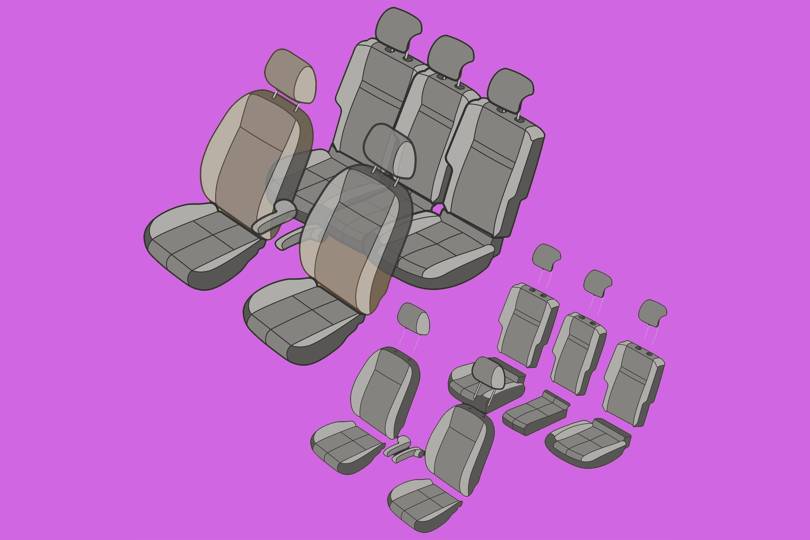 Matt Burgess, posting for
Wired Magazine's UK, website
, discusses the Freer Logic prototype head restraints, saying "Car headrests are designed to provide comfort and help to keep you safe during a crash. In the future, they could help to keep you awake at the steering wheel.
An electroencephalogram (EEG), technology that records brain activity, has been built into headrests produced by Changhong Research Labs and Freer Logic."
Read More.
---
Dr. William Van Tassel, posting for
Driver Training at AAA's website
, discusses the Freer Logic prototype head restraints, saying "Freer Logic seems to have identified a possible way to help drivers quickly know when their risk has increased, and trigger warnings so that drivers can return their full attention to the road, or even take a break when needed."
---
Luke Dormehl, covering Cool Tech at
Digital Trends
, mentions Freer Logic's "neuro-bio monitor…it looks at the brain itself — using non-invasive electroencephalograph (EEG) technology to pick up and decode the electrical signals from the pyramidal neurons closest to the surface of the brain's cortex. It then utilizes algorithms to pore over this brain data to find patterns of cognitive load, distraction, or drowsiness. These could be used to trigger an alert of some kind, such as sending haptic feedback through your steering wheel to jolt you back to attention."
---
Come Find Us at CES!
"Freer Logic's non-contact neuro bio monitor headrest will be featured in the CES booth (11539 LV Convention Center) of our partners at Changhong Research Labs. Using the headrest, you'll be able to drive our simulator by mind alone and see how distraction, cognitive load, and attention impact your driving skills. Contact me if you'd like a private discussion and demo.
Click here for a Map of the CES Floorplan.
---
Will the Internet of Things make us Superhuman?
Freer Logic technology is mentioned as a possible way to augment our future.
"Freer Logic's contactless EEG/ECD can read and monitor brain activities of people without having a device on them — their next generation device will be able measure brain activity remotely. That means we will be able to measure abnormal brain activity at airport security checkpoints for potential threats, identify the cognitive load of a customer in a retail store to assess interest or monitor the focus of train engineers to help avoid accidents. Although modern devices tend to be stiff agglomerations of sensors and circuits, that will soon change."
---
Samsung Tests
Researcher: Insoo Kim, Samsung Research America, Richardson, TX, USA
We are proud to reveal that Freer Logic has been secretly working with the Korean electronics giant, Samsung. Dr. Insoo Kim, head of Samsung Research America, and his colleagues, performed validation studies on BodyWave pitted against a clinical 8 channel EEG device. The tests examined the correlation between attention and relaxation between both instruments. The 8 channel EEG device correlated with a score of 91% using all eight channels. The BodyWave device scored 84% using a single channel on the low forearm away from the brain! Even more significantly, when the 8 channel device was examined channel by channel, it ranged from 84% to 89%; exactly what BodyWave technology scored far away from the brain! The researchers state that, "…our results illustrate the considerable potential of this technology."Click on the logo for a PDF of the abstract.
---
15th Annual TU-Automotive Awards 2016!
Freer Logic is a finalist at the 15th Annual TU-Automotive Awards 2016 as Newcomer of the Year.The award will be given on June 7 at the Suburban Collection Showplace, Novi, Michigan.
The evening gathers over 250 of the most influential executives in the connected car industry all under one roof to celebrate the year's greatest achievements.

---
Innovation Award!
Freer Logic has been awarded Frost & Sullivan's New Product Innovation Award for Cognitive Biosensors in ADAS for Automotive Industry.

---
CES Show a success
Thanks for the overwhelming reception at the CES event in Las Vegas. You now know that BodyWave can read your mind!
Please visit the site often as we will post new updates and blogs providing current information on our latest advancements and technology.

---
BodyWave featured in Time Magazine
The technology is complicated, but the implications are
staggering.
---
 BodyWave reads your mind
Freer Logic's latest innovation is BodyWave technology. This patented technology,  in the form of a sports armband, reads and reacts to brainwaves through the extremities of the body. There's no need to wear a silly headband or headset!
---
Your inner universe
This small interactive armband allows you to monitor your brain activity in real-time.  Your brain is the most powerful and valuable asset you possess. Everything in our lives is governed by the brain. Everything. It's our inner universe™. Yet we can't control it when we're under stress, distracted, or overwhelmed. BodyWave will not only help you explore this universe, but manage it for peak performance.
Endless possibilities
BodyWave can tell you when you are best prepared to putt or drive a golf ball. It  will tell you exactly when you've reached a peak performance state, have become drowsy, or if you're being inattentive or distracted. Your brain, only stronger. Your mind, only more powerful.
Brainwave to armband to computer
BodyWave reads brain activity through the human body via a uniquely innovative arm band that houses brainwave sensors that attach to the arm or wrist. BodyWave's patented design monitors the brain's physiologic signal through the body. Dry sensors acquire brain signal and transfer it wirelessly to a mobile device or PC.  Our technology >
Custom applications for your needs
We have applications that detect drowsiness, peak performance, attention, anxiety/stress, and meditation states. BodyWave is used with Freer Logic's 3D computer simulations or to control external devices like a DVD player, toy, etc. If you can imagine it, Freer Logic can build it.  Application Development >
---
BodyWave in the media
"The technology is complicated, but the implications are staggering" — TIME magazine
"A player wearing the BodyWave would wait to see a light indicating full concentration before making a putt. Whether the resulting putt would be considered cheating or attaining perfect focus is an open question" — TIME magazine
"Game your way to razor sharp attention skills" — Popular Science
"Twelve-year-old Nikolas Hufen can control computer games with his mind" — Journal Times
"BodyWave Mind-Reading Technology Helps Users Understand Brain Activity, Concentration" — Huffington Post
"Surfing the flow of brain waves to help employees pay attention" — Globe and Mail